Following last quarter's record-breaking rise, UK rents continue to trend upwards according to the latest DPS Rent Index. For the second quarter in succession, average rents in the UK rose by over 2%, now standing at £889, an increase of £19 (2.18%). Year-on-year rental costs are up £71, an 8.68% increase and close to the current level of inflation of 9.20%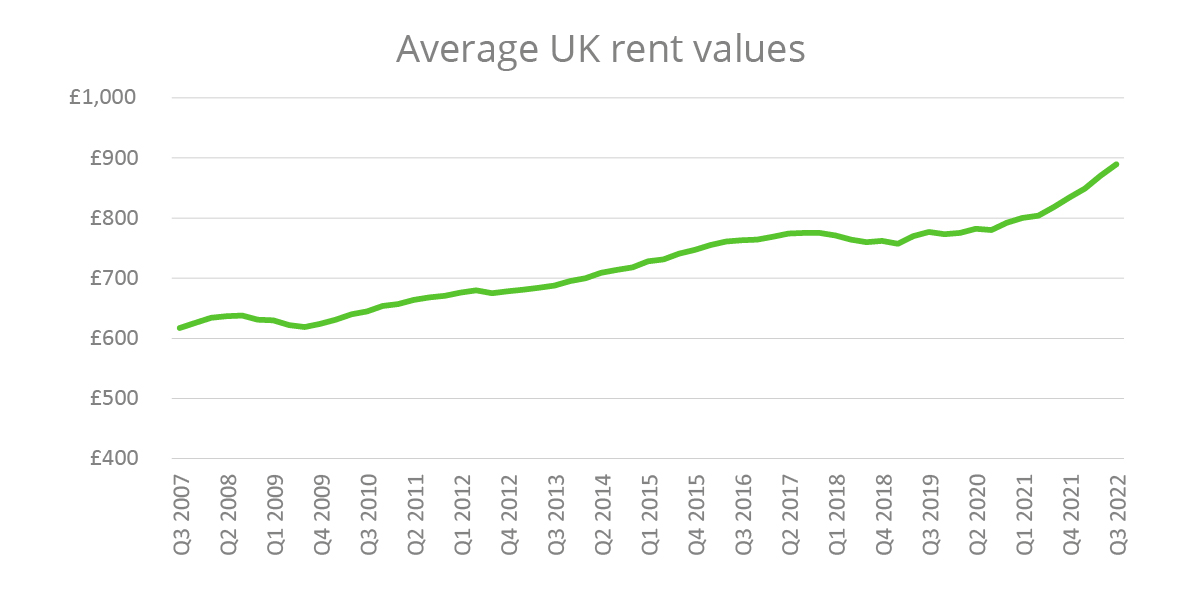 London hits new heights
London has seen exceptional rental growth, with average rents accelerating this quarter, up £61 (4.24%) to £1,499. This increase is more than double the previous quarter's rise. Annually, rents in the Capital are up £160, nearly 12% higher than Q3 2021, driven by an ongoing demand for detached properties, up £241 (12.98%) to £2,098, and a post-COVID resurgence in rents for flats, which have risen £176 (13.16%) to £1,513.
Regional growth remains strong
Though the pace of rental growth slowed slightly in most regions outside of London last quarter, rents have continued to push new heights. Five regions saw rents increase of 2% or more in the three month period. Annually, all regions have seen significant rental growth. Surprisingly, rising by a comparatively modest £34 (5.07%) to £705, the West Midlands has seen the lowest growth over the last 12 months, both by value and by percentage. Most regions outside of London have seen rents grow by over 7% since Q3 2021, with Scotland (up 8.91% to £721) and North West (up 8.98% to £692) both outpacing the national percentage rise.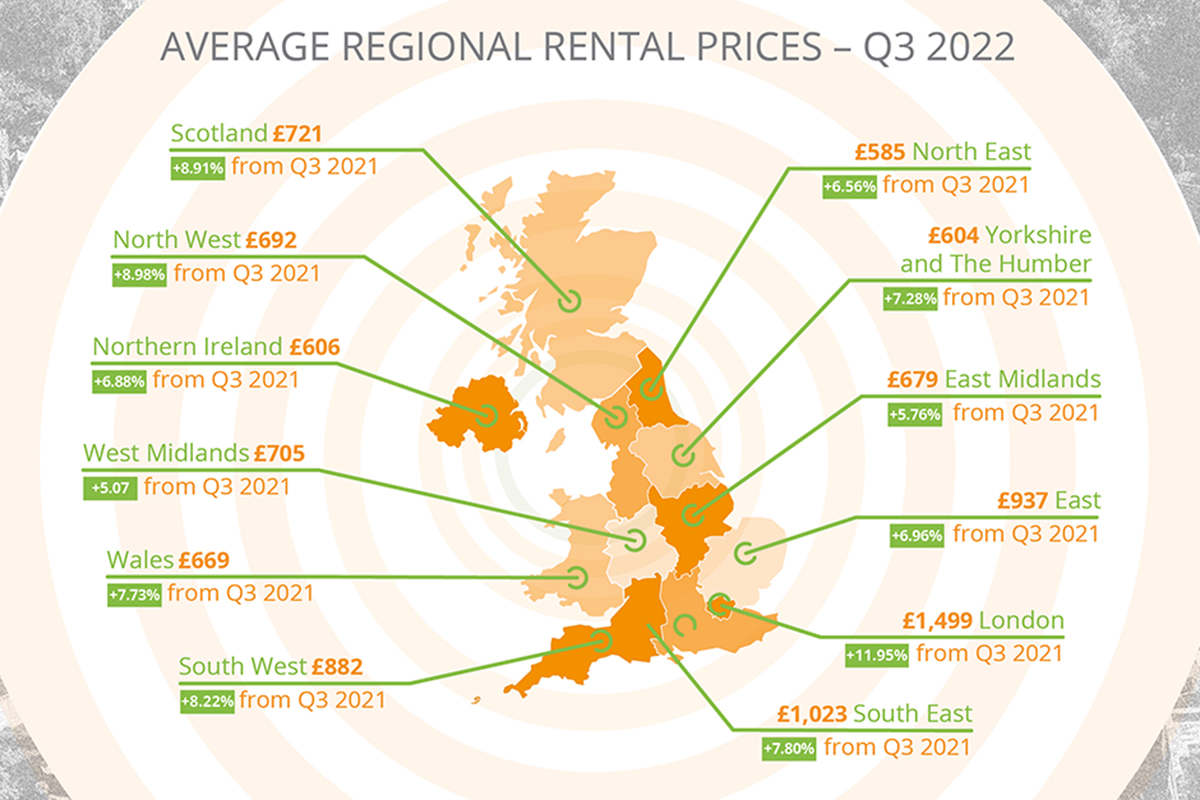 Nationally, rents by property type have increased consistently across the board, both quarterly and annually. Flats have seen the greatest increase in the last 12 months by percentage, up 9.52% from £830 to £909. Terraced properties, up £68 to £860, and detached properties, up £96 to £1,213, both saw the same percentage growth of 8.59%. Rents for semi-detached properties saw the smallest percentage increase, up (7.97%) to £962.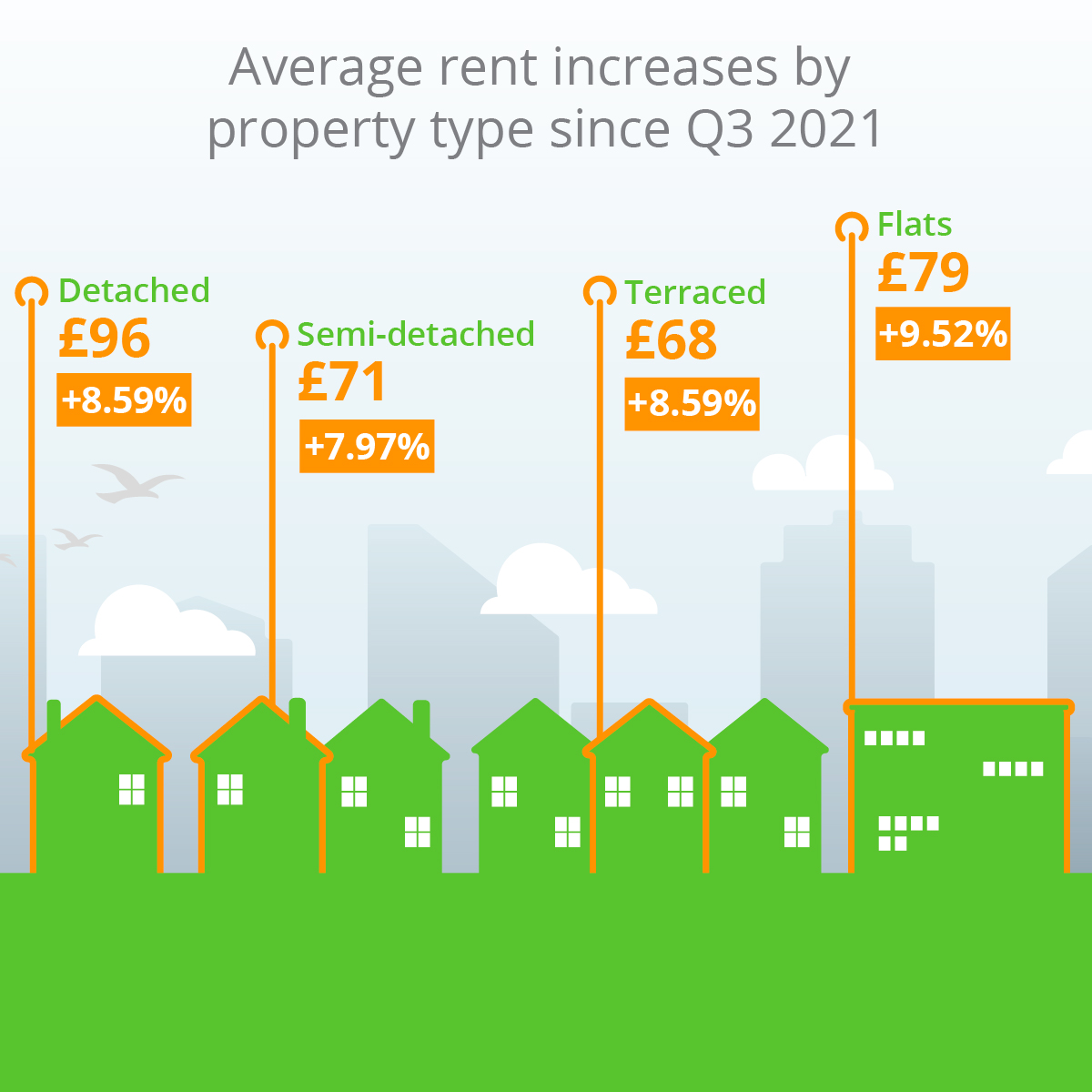 "Rent increases continued across the UK during Q3 2022 as a result of well-documented shortages in rental stock and general increases in the cost of living.
"Ongoing demand for larger properties in London, as well as flats during the past 12 months is driving the significant rent increases we're seeing in the capital.
"In order to secure a property, tenants are still willing to pay historically high rents."
Matt Trevett, Managing Director, The DPS
The DPS Rent Index – The largest and most reliable indicator of rental trends
As the largest provider of deposit protection in the UK, we have a unique insight into the Private Rented Sector (PRS). Our database of domestic private rental prices across Britain is the largest of its kind. It's the most reliable indicator of rental trends in the UK.
Utilising a database of tenancies that covers rental market activity since 2007, we analyse data from millions of properties across the country. We include national statistics in our analysis to build a picture not only of rental cost but rental affordability.
This allows us to produce a rental index that's statistically robust, reliable, and based on actual rather than advertised rents, delivering an accurate view of average rental values by property type across the UK.
Want more from your deposit protection provider?
Our free quarterly DPS Rent Index is just one of the reasons our customers rate us excellent on Trustpilot. Find out more and register for a DPS custodial account at depositprotection.com/join