The latest DPS Rent Index shows average UK rental values continued to accelerate during 2022.
Despite a cost-of-living crisis leaving many tenants struggling with their finances, the cost of renting continues to rise, with average rent in the UK now standing at £903, up £69 (8.27%) from £834 in Q4 2021.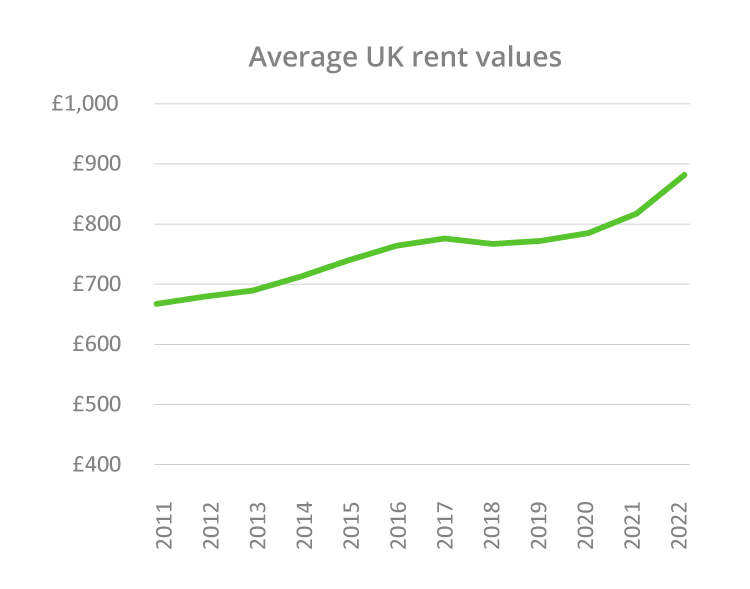 Across the UK, all regions have seen significant annual rental growth, with London and Scotland recording double digit percentage rises that outstrip inflation (currently 10.50%). Average rent in London now stands at £1,541, up £160 (11.59%) from Q4 2021, the highest rise by value seen by any region. The highest rise as a percentage of average rent was seen in Scotland, up £79 (12.02%) to £736, also the second highest regional rise by value after London.
Only three regions experienced annual growth under 6%. Yorkshire saw the smallest percentage increase, up £32 (5.50%) to £614, closely followed by the South East up £53 (5.52%) to £1,014. These percentage rises are still higher than the 5.30% increase in the UK national average rent seen in 2021, the previous highwater mark. Over the last two years, UK average rents have increased £111 (14.02%) meaning tenants are now paying on average over £1,300 a year more on rent than this time 2 years ago.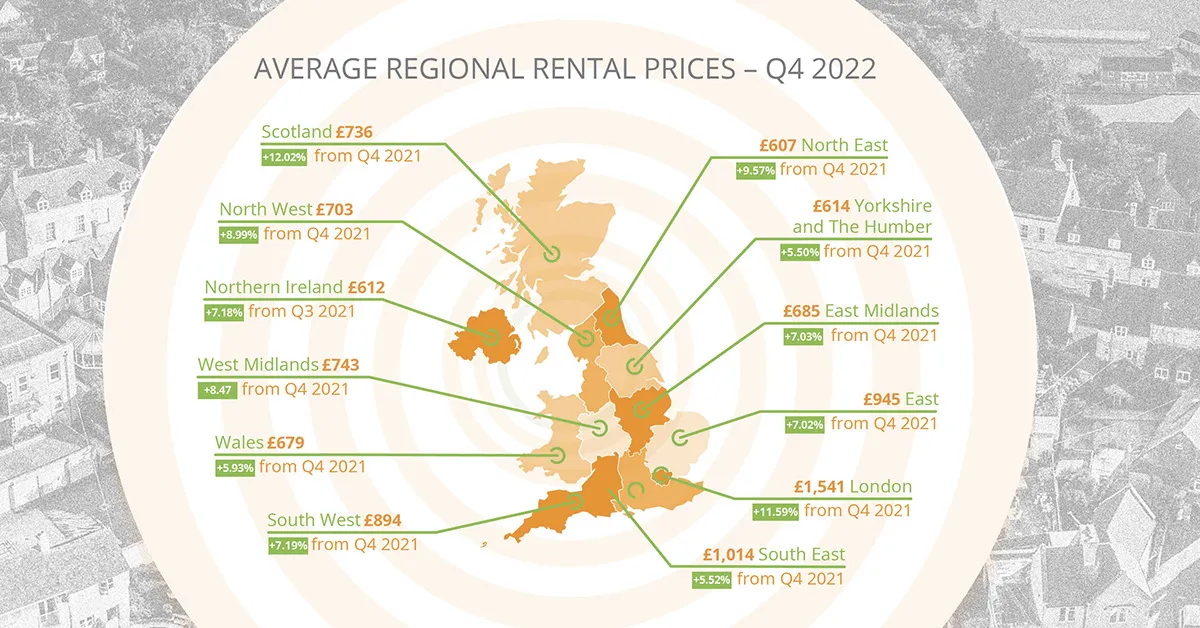 Understanding exactly why rents have continued to rise isn't straightforward. At a time when more and more people are looking for rental accommodation, net growth of available properties in the PRS appears to have stagnated during 2022. Maybe this lack of supply is driving some of the increase in rental cost. The total volume of tenancies with deposits under protection rose only 11,000 in the 6 months from March to September 2022, compared to over 217,000 in the previous 12 months. Perhaps a combination of increased regulation, interest rate pressures driving up mortgage costs, broader cost of living impacts, and a slowdown in new property builds1 may all be contributing to landlords reviewing the size of their rental portfolios and a contraction of PRS market. It's possible that a combination of all of these factors is fuelling the current increase in rental costs.
1 Barratt Developments to build fewer homes this year as it warns of 'marked slowdown' in UK housing market (msn.com)
"The UK's sustained rent rises are a result of a complex combination of inflationary pressures due to demand for housing.
"Higher interest rates may also be preventing those tenants who are looking to buy their own property from meeting mortgage affordability criteria, which means they must continue to stay in the private rental sector (PRS).
"Higher building material costs may also be affecting the pace and price of the construction of new homes, which is also squeezing the supply of properties for rent or purchase."
Matt Trevett, Managing Director, The DPS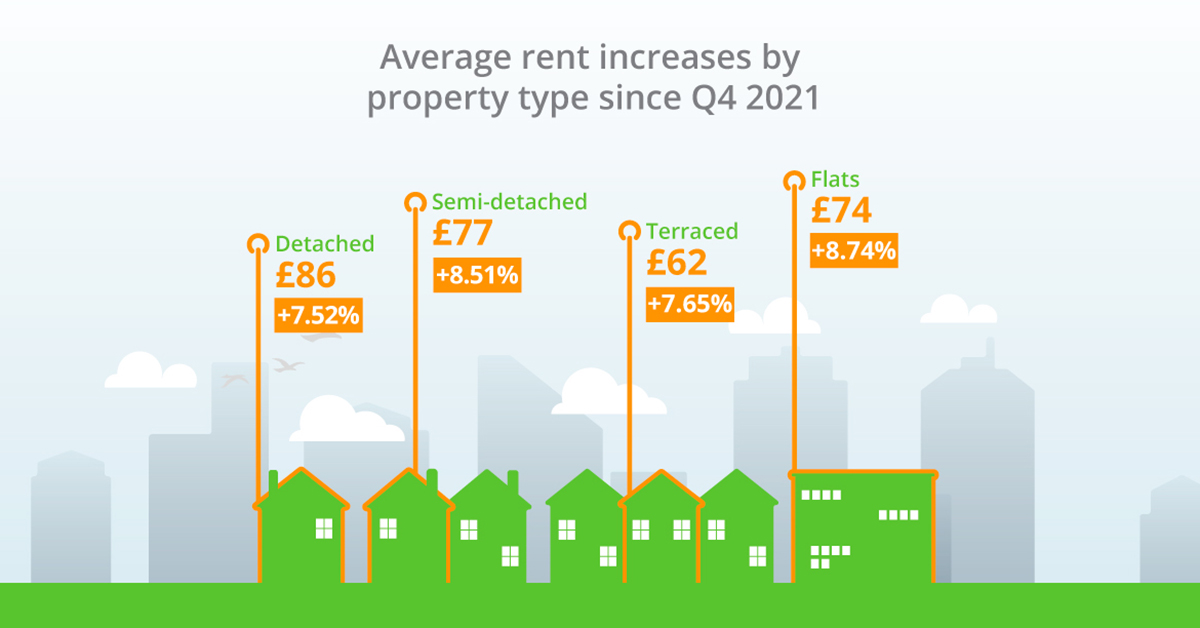 The DPS Rent Index – The largest and most reliable indicator of rental trends
As the largest provider of deposit protection in the UK, we have a unique insight into the Private Rented Sector (PRS). Our database of domestic private rental prices across Britain is the largest of its kind. It's the most reliable indicator of rental trends in the UK.
Utilising a database of tenancies that covers rental market activity since 2007, we analyse data from millions of properties across the country. We include national statistics in our analysis to build a picture not only of rental cost but rental affordability.
This allows us to produce a rental index that's statistically robust, reliable, and based on actual rather than advertised rents, delivering an accurate view of average rental values by property type across the UK.
Want more from your deposit protection provider?
Our free quarterly DPS Rent Index is just one of the reasons our customers rate us excellent on Trustpilot. Find out more and register for a DPS custodial account at depositprotection.com/join