The latest DPS Rent Index shows average UK rents continuing to display significant growth. Average rents in the UK for Q4 2021 are now £834, a £16 (+1.96%) increase on Q3 2021, and £42 (+5.30%) above their position this time last year.
Excluding London, UK average rents are now £737, an £11 (+1.52%) increase from Q3 2021, and up £38 (+5.44%) from £699 in Q4 2020.
Average rents have increased for all property types since the last quarter and annually. Demand for detached properties continues to lead the way as it has done since the start of the pandemic, growing to £1,143, increases of £26 (+2.33%) since Q3 2021 and £88 (+8.34%) from this point last year. However, demand for other property types has also been strong since Q4 2020, with rents for semi-detached properties growing +6.85% to £905, terraced properties up +6.72% to £810, and rents for flats rising +5.48% to £847.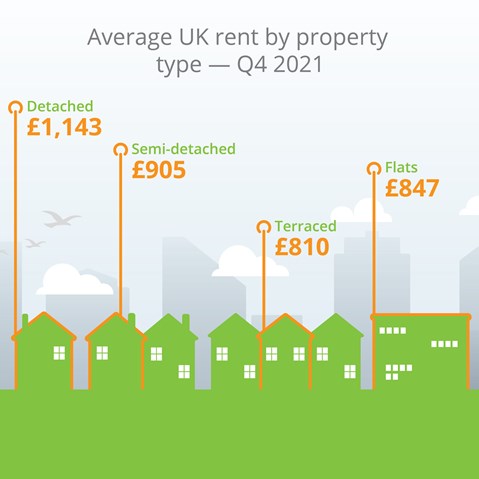 Growth is a national trend
This national picture of sustained rental growth over the last 12 months is reflected regionally, with all areas showing an increase in average rents since Q4 2020. The South West has seen the biggest percentage rise from this time last year, with rents rising +6.92% from £780 to £834. Other hotspots include Yorkshire (+6.59%), the North East (+6.54%) and the East region (+6.26%). Rents in Wales and all English regions have seen annual rental growth of over 4%. Scotland is the only region to see minimal rental growth since Q4 2020, rising just +0.77%, from £652 to £657.
Quarterly changes also reflect robust rental growth across most regions. Yorkshire shows the highest rise in average rents by percentage since Q3 2021, with rents leaping +3.37%, from £563 to £582.
Rising £19 (+2.33%) this quarter to £834, average rents in the South West drew level with the national average for the first time, a continuation of the steep growth in rental values in the region over the last 12 months.
London's 2020 blues banished
London rents show the highest rise by value this quarter, up £42 (+3.14%). Rents in London are up +4.86% annually, a reversal of fortune from a dismal 2020 which saw the Capital as the only area to see a decline in average rents over the year, having fallen -£28 (-2.08%) from Q4 2019 to Q4 2020 to £1,317. This year's return to growth now sees them end the year at £1,381.
Rental growth in the Capital has been underpinned by the return to popularity of flats. Average rents for this property type fell -2.90% between Q4 2019 and Q4 2020 as the impact of the pandemic took its toll on city living. The last 12 months has seen a complete turnaround, with average rents for flats growing +6.13% since Q4 2020, from £1,305 to £1,385. Average rents for all property types have increased in London over the last 12 months, with detached properties continuing to maintain the strong growth seen since the start of the pandemic, increasing +3.83% from £1,803 to £1,872.
A rosy outlook for the White Rose region
With the highest quarterly percentage increase (+3.37%), and the second highest annual percentage growth (+6.59%), Yorkshire is proving to be a rental property hotspot. Flats and Detached properties have fuelled the rise in average rents with increases of +10.60% and +10.12% respectively.
Within the region, the city of York has seen particularly robust growth in average rental values, rising +9.49% in the last quarter alone and +17.17% since Q4 2020, a 12 month rise of £120, from £699 to £819.
North East Lincolnshire has also shown high demand for properties over the last 12 months, with average rents up +14.06% from £441 to £503.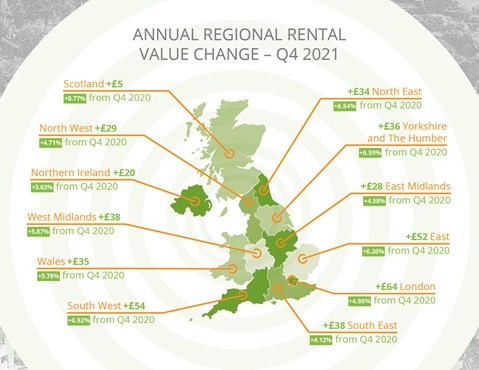 Are sticky tenants contributing to rental growth?
High demand for rental properties underpins the sustained rental growth throughout 2021. But there is also evidence to suggest that tenants are moving less frequently, further limiting availability.
Whilst The DPS has continued to expand, we've seen fewer tenancies closing during the past two years compared with the preceding two years. This shows that many tenants aren't moving at the same frequency as before the pandemic. This could be due to a number of factors, including a widely-reported lack of available rental homes across the country, and the opportunity for many to work from home, negating the need to move to accommodate a change in jobs coupled with employers willing to consider candidates from further afield.
"During Q4 2021 rents increased in the vast majority of UK regions and across all property types, with demand for detached properties driving the greatest increase in rental value for these properties.

"Our figures also show that renters were less likely to move during the past 12 months, suggesting lower availability of stock and therefore perhaps more limited options for moving.

"We're also seeing definitive signs of recovery in London, particularly the return of the popularity of flats in some areas, suggesting that some tenants are coming back to the capital."

Matt Trevett, Managing Director, The DPS
The DPS Rent Index - The largest and most reliable indicator of rental trends
As the largest provider of deposit protection in the UK, we have a unique insight into the Private Rented Sector (PRS). Our database of domestic private rental prices across Britain is the largest of its kind. It's the most reliable indicator of rental trends in the UK.
Utilising a database of tenancies that covers rental market activity since 2007, we analyse data from millions of properties across the country. We include national statistics in our analysis to build a picture not only of rental cost but rental affordability.
This allows us to produce a rental index that's statistically robust, reliable, and based on actual rather than advertised rents, delivering an accurate view of average rental values by property type across the UK.
Want more from your deposit protection provider?
Our free quarterly DPS Rent Index is just one of the reasons our customers rate us 4.6/5 on Trustpilot. Find out more and register for a DPS custodial account at depositprotection.com/join
Read past issues of the Rent Index