"You said, we did"
You've told us that by adding more reporting tools to our website, deposit administration would be made far simpler. As part of our ongoing commitment and investment into our service, we've done just that by launching our new reporting suite.
How will this help me?
You can now find and export information about your account instantly including overall balance and number of tenancies you have on any given date. A useful tool to have when you're reconciling and auditing your accounts at the end of the financial year. Gone are the days of having to call or email us and waiting for the reply. Two more features have recently been added...
Repayments

View and export information on repayments you've received from us including the tenancy details, deposit ID and property address.

Our reporting tool will also help you cross reference any repayments you've made, as we know some banks don't offer that information

As an optional extra, you can view pending payments, when payments are due and the status of expected payments

Payments

We provide full visibility of payments (bulk payments included), funds, deposits IDs and property address which can be exported at any time

Allowing for payments to be easily traced and reconciled with your records
How to access the reports
When you log into your account, you'll see a 'Reports' option in the top navigation. From there you can select "Balance held on the selected date", "Payments" and "Repayments" reports.
Customers who have used the download deposits report before will now find this under the new reporting page and has been re-named "All tenancies".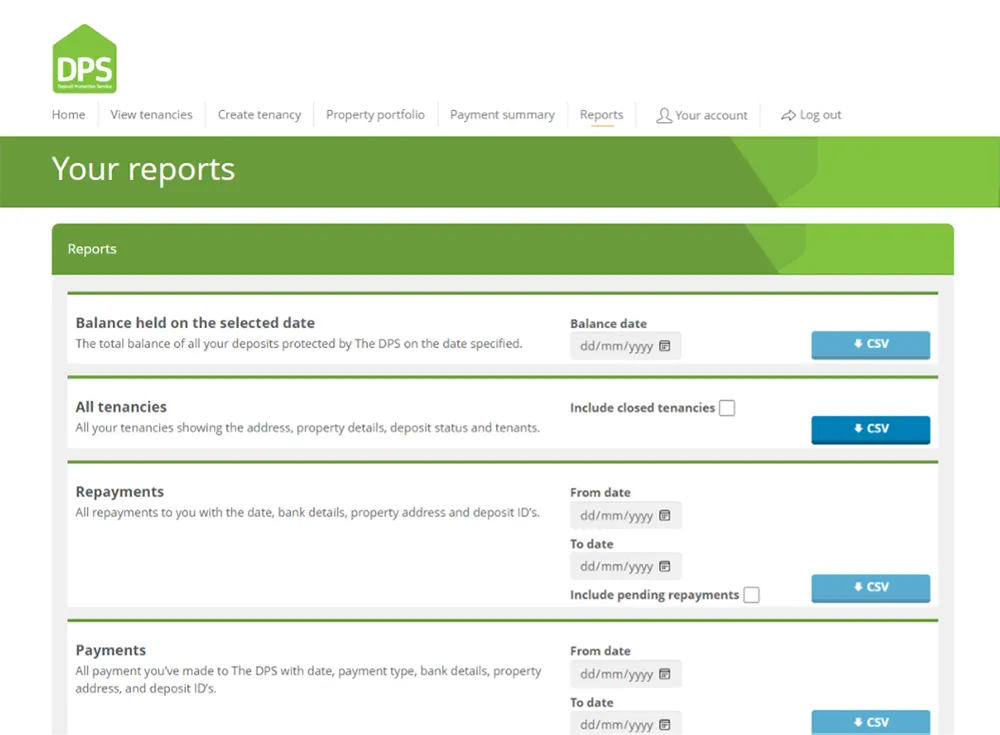 How to download your chosen report
Click on the Reports tab in the navigation
Select from different report options
Complete the report criteria
Instantly download the chosen report in a CSV format