Enhance your peace of mind with our enhanced deposit security measure
We know how important deposit security is for our customers. Fraudsters are always on the lookout for ways they can cheat the system and steal other people's money. That's why we continue to invest time and money in the fight against fraud.
Our enhanced authentication helps to protect your account from being used by a third party without your knowledge. It offers an additional level of security for specific online functions by introducing an extra layer of validation using the contact details you have registered to your DPS account.
How does it work?
When completing transactions and changes to your account with this feature enabled, we'll send you a code by text message or email to the contact details registered to your account. You'll need to enter this code to validate who you are. You'll then be able to complete transactions in your account. You won't need to enter the code every time you transact. Once you've successfully used it to access your account, your authentication will be valid for up to 30 days.
| | |
| --- | --- |
| | Enable Enhanced Security Authentication |
| | We send you a unique code to your registered contact details |
| | Enter your unique code to validate who you are |

If someone tries to access your account with an invalid code, after a number of attempts we'll lock your account to prevent further attempts to gain access. A short call to our Customer Service team will be required for you to regain access
How do I activate Enhanced Security Authentication?
When you log in to The DPS website, on the "Your account" page, you'll see a section with the option to change your authentication preference.

Click the Change preference button. You'll be asked if you want to use Enhanced Authentication. Select the yes option and click save.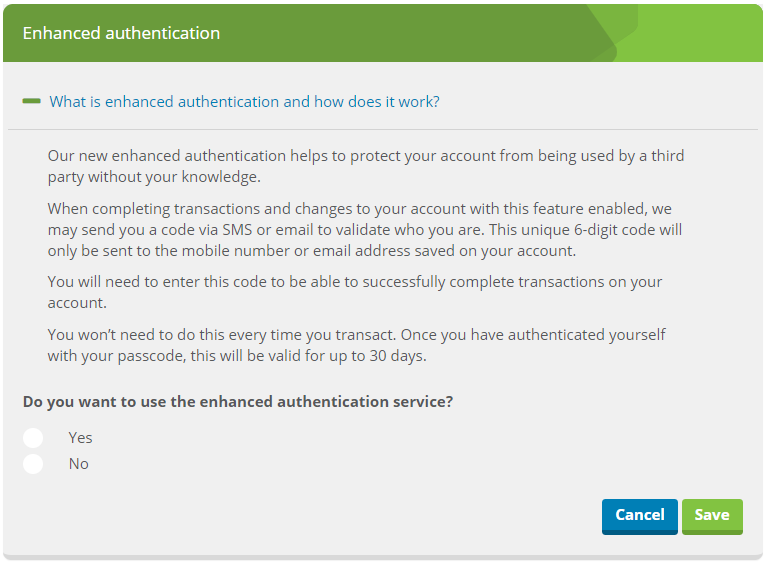 Your Enhanced Security Authentication status will update to reflect your preference.