Ever felt keeping track of your tenancy deposits is a bit like herding cats? With your new account dashboard, it's now easier to keep on top of your deposits and actions.
Logging into your DPS account, you'll now see new account features "Tenancies summary" and "Notifications" which are unique to you. Read on to find more about each.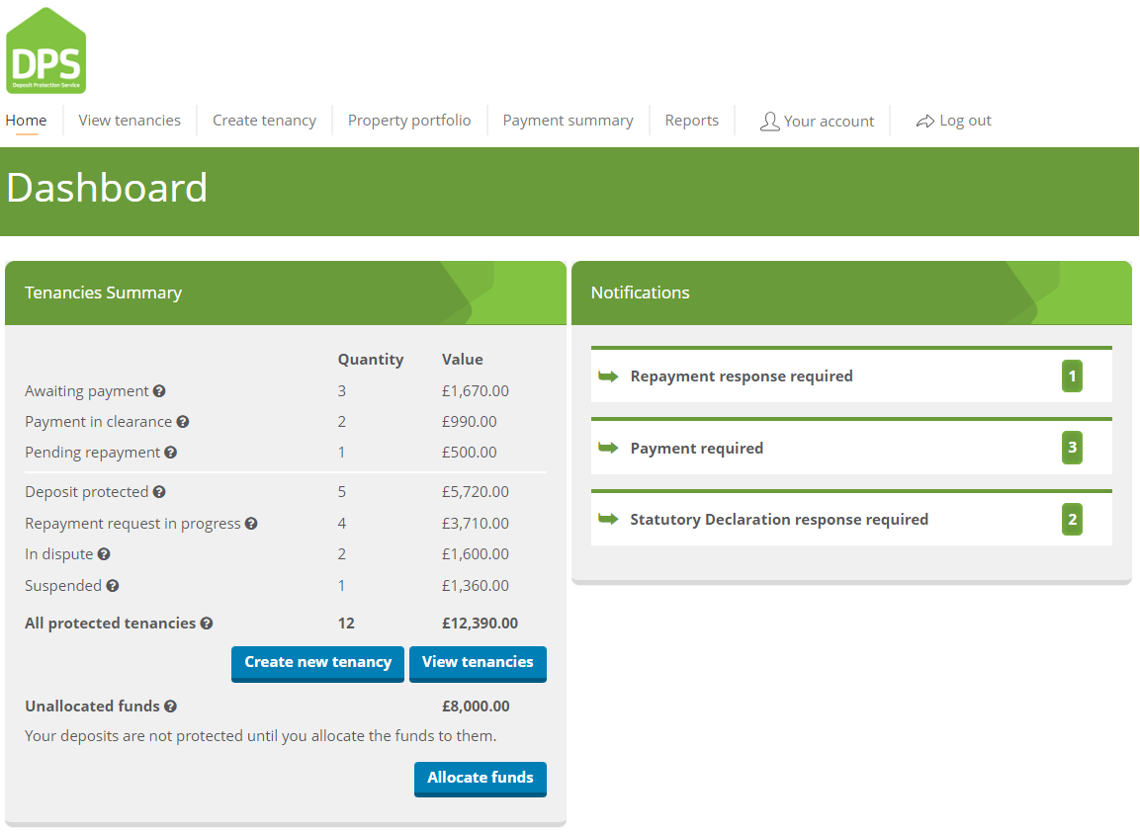 Your Tenancies summary
Your tenancies summary provides an overview of all active tenancies within your account. With real-time data, you'll see the quantity and value of all active tenancies, the tenancy status, and the number of tenancies in each status category. The summary displays only the most relevant data, so if there are no current deposits with a particular status, the category won't appear.
In progress payments are shown above the line in your summary. Below the line displays active protected deposits, with All protected tenancies being the combined total of all deposits in this section. Any unallocated deposit funds requiring action are displayed at the bottom of the tenancies summary.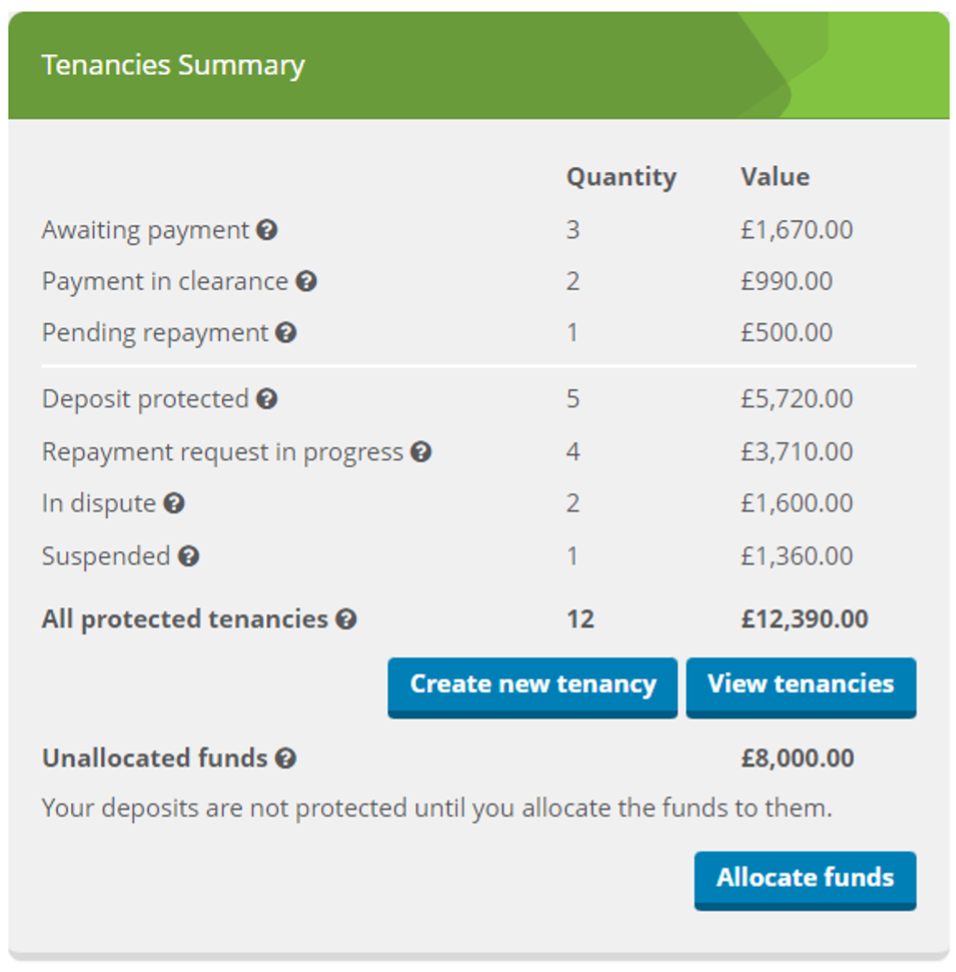 Status categories include:
| | |
| --- | --- |
| Awaiting payment | Tenancies awaiting a deposit payment – whether it's an initial or additional payment. |
| Payment in clearance | Tenancies where a payment has been made but not cleared. Debit card payments can take up to one day for the payment to clear. |
| Pending repayment | Tenancies where a repayment is processing, meaning the payment has been agreed to but has not cleared. |
| Deposit protected | Tenancies where the deposit is protected and has no active repayment requests. |
| Repayment request in progress | Tenancies where a repayment has been requested, are awaiting a response from another party, and aren't in dispute. |
| In dispute | Tenancies in the dispute resolution process awaiting a decision or awaiting a court order. |
| Suspended | Tenancies that are suspended. |
How does it help me and my team?
The tenancies summary makes it easier for you and your team members to find the information you need rather than searching through the site.
Accounts teams can view deposit values, assisting with reconciliation.
Management can view the quantity of tenancies in dispute to take the appropriate actions.
Agents are alerted of suspensions, prompting them to review the tenancies.
Agents are alerted when deposits need payment and when payment has been made.
Your Notifications
The notifications section helps you stay on top of deposit management, allowing you to quickly delegate tasks and track progress, reducing missed actions. You'll see notifications and actions in three categories (categories are hidden if no action is required):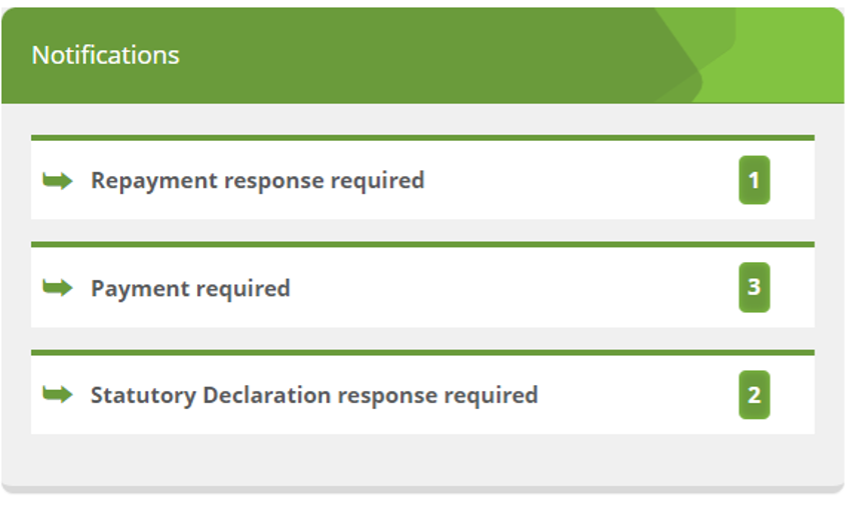 Repayment response required – Alerts you when an action is required, such as when clients reject a claim. This will make it clear when a claim has progressed and requires action from you, simplifying your claim tracking.
Payment required – Alerts you when a payment is outstanding
Statutory Declaration Response required – An alert for when you need to take action regarding a Statutory Declaration, to ensure you don't miss your deadlines.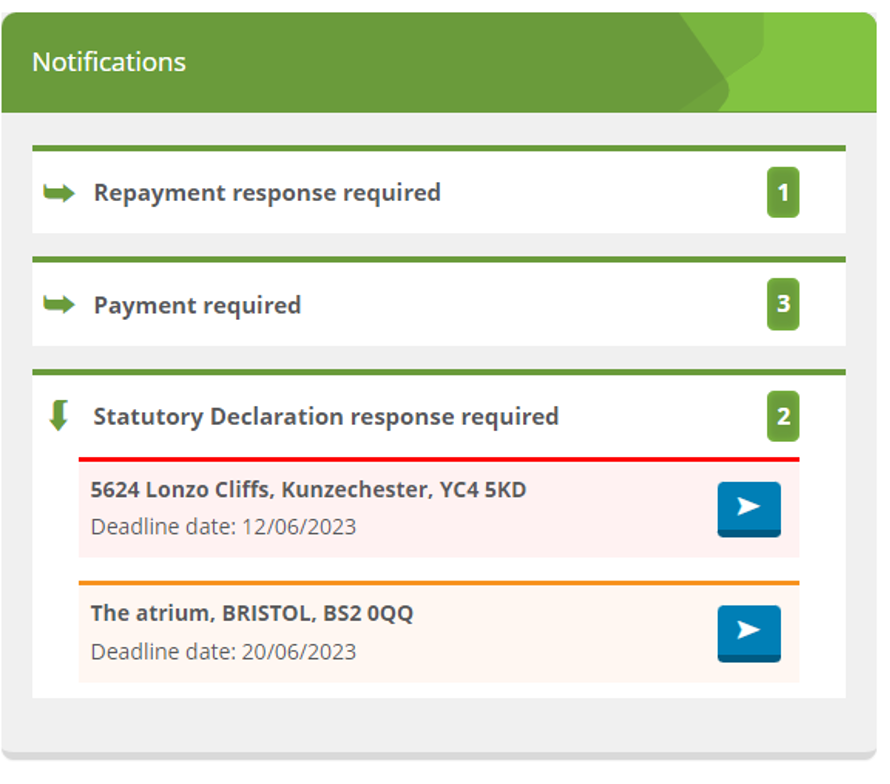 Click on the arrow next to the category to expand the section and view the tenancies requiring action. Your notifications will give you the address for the tenancy requiring action and the deadline date if there is one. A button will take you directly to the tenancy so you can complete the action required. The notifications are colour-coded to help you identify and prioritise the most important tasks and ensure you don't miss a deadline:
Amber – Deadlines over one week away
Red – Deadlines less than a week away
Your notifications will show any actions dating back to 10 May 2023 but not older tasks that may have been required for your tenancy in the past.
Continuing to make managing your deposits easier
Your new Account Dashboard makes it faster and easier for you to find the accurate, detailed, real-time deposit information you need, and we'll continue to develop and upgrade your dashboard as time goes on. Of course, we'll let you know when new enhancements are added. Keep an eye on your emails for updates and our Open House newsletters for further news.