Everything you need to know about The Tenant Fees Act and tenancy deposit cap
For English tenancies, The Tenant Fees Act came into force on 1 June 2019. This made it illegal for landlords and letting agents to charge certain fees in connection with a tenancy.
The only payments that can be charged are rent, a refundable tenancy deposit, a refundable holding deposit, payments to change a tenancy and those associated with early termination of a tenancy (both when requested by the tenant), payments for certain utilities and services and default fees for late payment of rent and replacement of lost keys.
A breach of this legislation can be considered a civil offence, with a financial penalty of up to £5,000. Any further breaches within five years could result in a criminal conviction, a banning order and an unlimited fine. If a local authority chooses not to prosecute they can impose a financial penalty of up to £30,000 as an alternative.
The government has issued detailed guidance for Landlords and Letting Agents, Tenants and Enforcement authorities which you can find here. The Welsh government is introducing separate legislation for Welsh tenancies.
Do you know the tenancy deposit cap came into effect on 1 June?
A key part of the new legislation is that tenancy security deposits will now be capped at the equivalent of 5-weeks' rent for assured-shorthold tenancies with an annual rent of up to £50,000, or 6-weeks' rent for tenancies with an annual rent of £50,000 or more.
Here's a snapshot of the key details: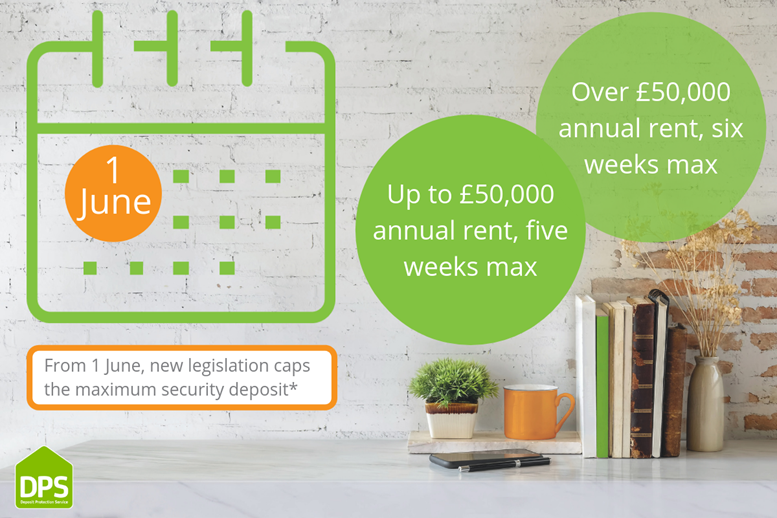 *The cap applies to all new/renewed tenancies including shorthold/student
These changes will apply to ALL new tenancies entered into from 1 June 2019, and any existing tenancies that are renewed on a fixed-term basis. It doesn't affect any tenancies signed before 1 June 2019 (irrespective of when the tenant actually moves into the property), although the change will apply to any future fixed-term renewals.
You're not required to re-serve Prescribed Information
There are no special provisions or exemptions if the tenant has a pet. The maximum deposit amount allowed must still fall within the compliance thresholds above.
Custodial deposits
In order for you to check if your custodial deposits exceed the deposit cap, we've created our Deposit Cap Calculator. Landlords and letting agents can use it to calculate how much they need to reduce their deposits by (if at all) and we'll take care of any changes that need to be made. If you have deposits for several tenancies you want to bring into line with the deposit cap, you can do this in one go, regardless of when the tenancies are due to be renewed. Simply download the Deposit Cap Calculator, follow the process below and when you're ready, send it to us. We'll do the rest!*
Download the Deposit Cap Calculator
You can use the online tool as many times as you want, so you only need to make the change to deposits as and when they become affected by the legislation, if you wish.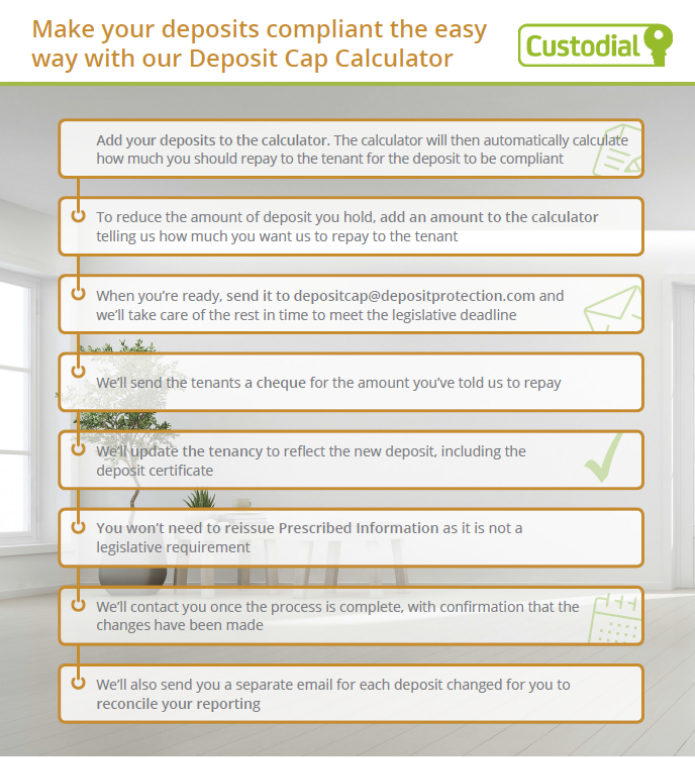 Insured deposits
To check your insured deposits, you can use the same calculator to reduce your deposits, and send it to us once you've repaid your tenants, and we'll take update our systems to reflect the new deposit value as per the following process.
Download the Deposit Cap Calculator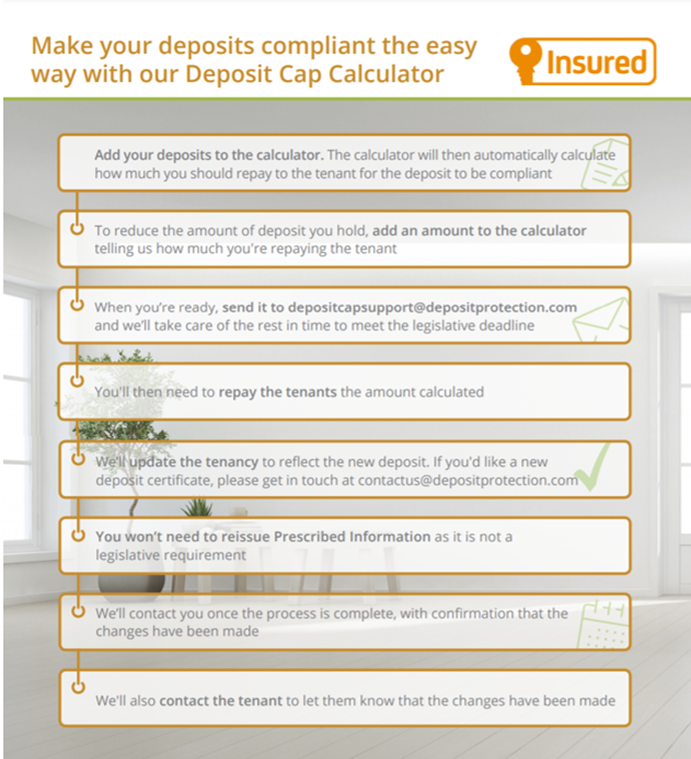 FAQs
How many times can I use the Deposit Cap Calculator?
You can use the Deposit Cap Calculator as many times as you need. Either use the calculator to tell us what you want to refund when each tenancy renews, or use it to reduce all of your affected deposits in one go. The choice is yours!
How do you make sure the refund request is from me?
As long as the deposit refund request is sent from your registered email address or an email address registered on your DPS account, we'll accept the refund request.
How long does the refund take?
We'll send you a receipt telling you we have received your request. All refunds will be completed within 10 calendar days of this.
Will I receive confirmation the money has been refunded?
Yes, we'll send an email to you once we've paid the refund to your tenant.
What if I can't use the calculator for some reason – can I still refund my tenants?
Of course! You can still manually work out the value of deposit you need to return and send us the details at depositcapsupport@depositprotection.com. Just provide your landlord ID, deposit ID, the current deposit value protected and the amount you want us to refund.
I'm renewing a tenancy that was entered into before 1 June 2019. The deposit is over the cap amount. How soon do I have to repay the difference to the tenant?
All three of the government-authorised Tenancy Deposit Schemes advise you return the difference to the tenant as soon as you reasonably can and definitely no more than 28 days from the date you renewed the tenancy.
If you're unsure about anything relating to the Tenant Fees Act, head over to the government website, where you'll find lots of useful information and a variety of frequently asked questions answered.
*Landlord or letting agents must ensure any data they send to us is accurate, and that all information we hold for tenancies is up to date and factually correct. We don't accept liability for losses not arising from our negligence, wilful default or fraud.