Bristol – Fifteen years ago today Take That's 'Shine' was at number one in the charts, 'Mr Bean's Holiday' drew crowds into cinemas and UK's largest protector of tenancy deposits, The Deposit Protection Service (The DPS), was launched.
According to The DPS there are around 5m households in the UK's private rental sector (PRS) during 2022, representing 18% of all homes.
The organisation took its first deposit on 1 April 2007 and now safeguards over 1.8m tenant deposits.
Matt Trevett, who was part of the team that designed and founded The DPS and is now its Managing Director, said: "The creation of deposit protection schemes such as The DPS was a watershed moment, because it provides a secure solution so both tenants and landlords can have total peace of mind about how deposits will be handled at the end of the tenancy.
"The private rented sector has seen significant changes during the last 15 years, including the increased digitisation of the deposit and repayment process to meet round-the-clock demand.
"However, the core principle of free, easy-to-use deposit protection during a tenancy's lifetime remains as vital now as in 2007.
"During the decade and a half that has passed since we started, we have continuously honed our role safeguarding and repaying billions of pounds worth of deposits back to tenants while also enabling landlords and tenants to link repayment to a property's condition at the end of a tenancy."
The organisation added that since 2007 it has:
Protected 8.41m or £7.14 billion worth of deposits (exceeding £1 billion in active deposit value in 2015)
Repaid around £4.12bn to tenants and around £1.25bn to landlords or agents
Handled more than 7m phone calls and almost 2m pieces of correspondence as well as millions of online interactions
Donated around half a million pounds to organisations helping to fight homelessness
Trained over 10,000 landlords and letting agents (since 2007) on all aspects of deposit protection
Achieved a current Trustpilot score of 'excellent' or 4.5 out of 5
The DPS also said that:
Less than 3% of tenancies registered with the organisation have ended in dispute
Cleaning has been the most likely cause of a claim against a deposit (23% in 2022)
Damage (19%) and rent arrears (17%) are the second and third most likely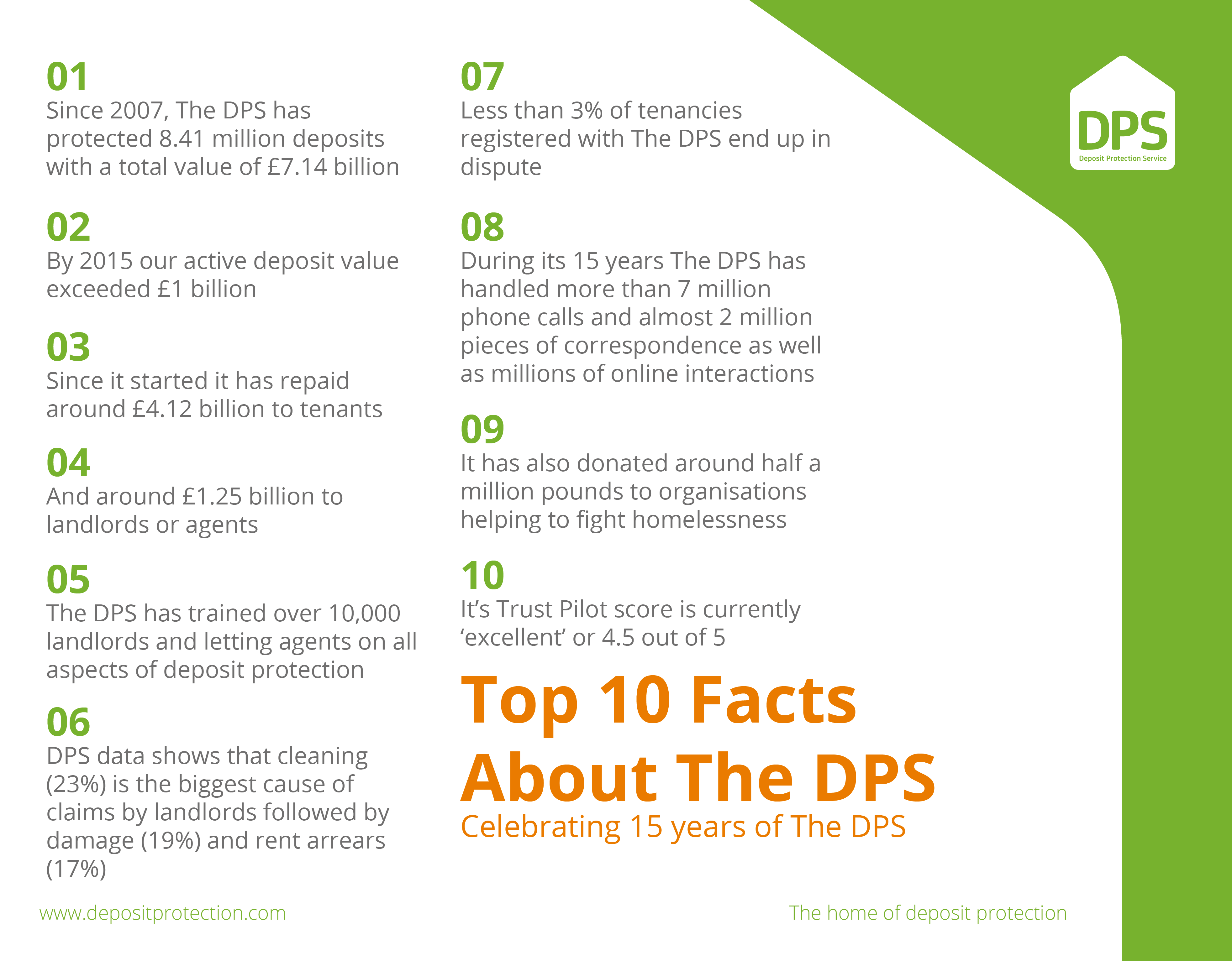 For any media enquiries
Sarah Chidgey
PR Manager +44 (0)370 702 0003 x1534
sarah.chidgey@computershare.co.uk
Notes
For high resolution images of spokespeople, visit http://cpu.vg/spokespeople.
According to the ONS, there are 27.8m households in the UK in 2022. Of these, 18% or around 5m are in the PRS, according to the Government's latest Family Resources Survey.

About The DPS
The Deposit Protection Service's custodial tenancy deposit protection scheme is accredited by the Government. It is provided free of charge, and funded entirely by the interest earned from deposits held in the scheme. The DPS was approved by the UK government to run an insured TDP scheme in September 2012 in addition to the approval it has already been granted by the UK government in respect of the custodial scheme. The DPS is run by Computershare Investor Services PLC. Online self-service allows landlords to register and make deposit payments, transfers and repayments 24 hours a day. Help and advice is available through a dedicated call centre during office hours. An impartial Dispute Resolution Service, helps to resolve any disputes quickly and without the need for court action.


About Computershare Limited (CPU)
Computershare (ASX: CPU) is a global market leader in transfer agency and share registration, employee equity plans, mortgage servicing, proxy solicitation and stakeholder communications. We also specialise in corporate trust, bankruptcy, class action and a range of other diversified financial and governance services.
Founded in 1978, Computershare is renowned for its expertise in high integrity data management, high volume transaction processing and reconciliations, payments and stakeholder engagement. Many of the world's leading organisations use us to streamline and maximise the value of relationships with their investors, employees, creditors and customers.
Computershare is represented in all major financial markets and has over 14,000 employees worldwide.
For more information, visit www.computershare.com